Irish turf cutters warned they could face legal action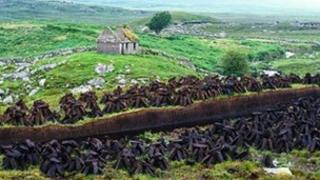 Turf cutters in the Republic of Ireland have been warned they face legal action if they cut turf on protected bogs this weekend.
Fifty three turf bogs are protected under the EU Habitats Directive.
The Irish government faces fines of 25,000 euros a day if turf cutting takes place in protected areas.
The Minister for Arts, Heritage and the Gaeltacht, Jimmy Deenihan, said anyone who broke the law would face the consequences.
The minister was responding to a call on Wednesday by the Turf Cutters and Contractors Association (TCCA) for members to begin cutting again.
The affected sites are mainly situated in the midlands and the west of Ireland.
The TCCA want the closure of the protected sites to be phased over three years to allow members time to find alternatives, but this proposal was rejected by the government and the European Commission.
The association has described the government's stance as "an act of betrayal".
Minister Deenihan stressed that affected turf cutters were being offered compensation.
However, a spokesman for the association said that they were not concerned about money, but protecting a centuries' old tradition.