SS Nomadic misses Titanic boat but restoration continues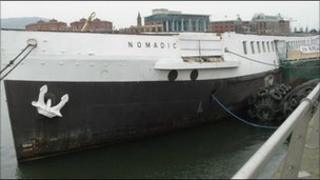 Better late than never is the message from the decks of the SS Nomadic, after it missed the boat in terms of capitalising on the Titanic anniversary.
While the new Titanic visitor attraction was selling out of tickets, Nomadic remained closed to the public as it enters what should be its last phase of restoration.
During a visit to the vessel, Tourism Minister Arlene Foster said she would have "preferred" Nomadic to have opened at the same time as Titanic Belfast last Saturday, but it will not happen until November.
Social Development Minister Nelson McCausland, whose department rescued the ship from the scrapyard in France in 2006, said failure to open during Titanic centenary events "cannot deter us from seeing this project through".
Mr McCausland added: "Then, visitors to Belfast will be able to enjoy it for many years to come."
He said critics would be confounded.
Riverside restaurant
In 1911, the Nomadic was used to ferry passengers out to the Titanic, anchored off Cherbourg before the outset of its doomed voyage.
It saw service during both world wars, before ending up as a riverside restaurant in Paris prior to purchase by the Department for Social Development and its return to Belfast where it was built by Harland and Wolff.
In 2009, the Northern Ireland Audit Office questioned the project's ability to raise funds and hit completion targets, either by its 2011 centenary or by April 2012 and the Titanic commemorations.
The Nomadic's interior will now become the focus of work, after Harland and Wolff signed off on rebuilding its upper decks and funnel.
More than £3m of Heritage Lottery Funds have been secured for the project's final phases.
About half the money will be used on the boat, the rest on a dry-dock, its permanent home beside Titanic Belfast.
"Nomadic is the most significant bit of Titanic heritage not at the bottom of the sea," said the fund's Paul Mullan.
Those engaged in the interior restoration said most of what people would see will be "the authentic material".