Family say baby's death from pseudomonas was avoidable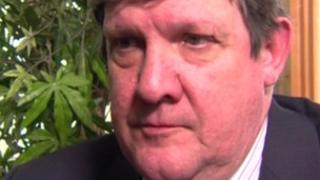 The family of the third baby to die in the pseudomonas outbreak in Belfast say their child could still be alive if preventative measures were in place.
Their solicitor Ernie Waterworth said they felt distressed by the issues raised in a report on the outbreak.
The review concluded the bug was linked to water from contaminated taps.
Health Minister Edwin Poots has told the Belfast Trust he will introduce measures to ensure it improves its quality of service.
The Regulation and Quality Improvement Authority (RQIA) is investigating the four deaths at hospitals in Belfast and Londonderry in December and January.
It said in an interim report that the Belfast Health Trust should have declared the outbreak sooner, and criticised a lack of communication between health officials.
The parents of the eight-day-old baby, who was the last child to die from pseudomonas at the Royal Jubilee Maternity Hospital's neonatal unit, do not want to be named.
Speaking through their solicitor Ernie Waterworth, the couple said they were distraught and felt "back at square one" following a private meeting with Mr Poots to discuss the interim report.
Mr Waterworth told the BBC's Evening Extra: "He (the minister) did say if there were difficulties or there were problems he would be accepting responsibility and putting his hand up to them.
"The mother is back to square one as such - the mother and father are completely distressed and distraught about the revelations in the report and the issues that have been identified.
"I think it's fair to say they believe they've no doubt in their mind that their baby could still be alive today had the appropriate action been taken, bearing in mind their baby was at the end of a line."
Mr Waterworth said the parents had several issues with the care their baby received and needed answers.
"The family have a concern about the use of tap water in that they have another child born in 2009 who was also premature," he said.
"It was in the same unit, in fact the next bed to where this baby was. The strict instructions then were it had to be sterile water for changing nappies."
He said the parents were now looking for "openness and transparency, and an honest outcome from all the inquiries. The full report is due at the end of May.