No shocks in Nesbitt reshuffle
Stephen Walker is standing in for Mark Devenport.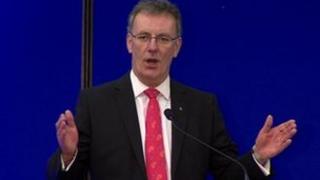 Mike Nesbitt walked down the steps, past the statue of Lord Craigavon and into the Great Hall at Stormont to announce his first reshuffle as party leader.
He looked relaxed and was dressed casually without a tie.
Unlike his leadership launch last month, this time he was not flanked by supporting MLAs.
The former journalist admitted that he isn't keen on press conferences where politicians are surrounded by supportive colleagues.
He told us he has never liked that idea and said it was "quite distracting".
So standing alone before the cameras he went through the changes to the UUP assembly team. To the listening journalists there was a sense of anti-climax.
Danny Kennedy would remain as the party's sole minister for the time being.
He would be replaced at a convenient time and Mike Nesbitt confirmed that close to the next assembly poll he would sit at the executive table.
This was not news since he had already told viewers of the BBC Sunday Politics programme the same thing.
The new UUP leader would not say when Danny Kennedy would stand down but it is thought that he will go some time next year.
It is possible that Mr Kennedy's immediate replacement could be another Danny.
The South Antrim MLA Danny Kinahan got a new job in the Nesbitt reshuffle. He is to become vice chair of the education committee, a role Mr Nesbitt had before he became leader.
Mr Kinahan's move will be seen as a reward for his support during the leadership campaign.
A ministerial aide to Mr Kennedy - he surprised many by backing the former broadcaster rather than his boss.
Mr Kinahan offered his resignation to Mr Kennedy but the minister refused.
Bearing in mind his work with Mr Kennedy, and his understanding of the Department of Regional Development, Mr Kinahan is well positioned to replace Mr Kennedy when Mr Nesbitt decides the time is right for a change.
Loyalty was rewarded in other ways in this reshuffle.
Last week North Antrim MLA Robin Swann declared for Mr Nesbitt.
Mr Swann did not attend Mr Nesbitt's leadership launch but backed the former victims commissioner, saying he was the best candidate.
Mr Nesbitt made him chief whip and he replaces John McCallister who Nesbitt handsomely beat in the leadership race.
Mr McCallister remains as deputy leader of the assembly party and has been given extra responsibilities. He will lead a commission examining constitutional issues, focussing on the union and looking at the next phase for the devolved administration.
Basil McCrea, a keen supporter of John McCallister and a former leadership candidate in 2010, remains in place.
He stays as chairman of the employment and learning committee, a post that will disappear when the department is scrapped.
Like his predecessor Tom Elliott, Mr Nesbitt will be chair of the OFMDFM committee which scrutinises the role of Peter Robinson and Martin McGuinness.
In all this was a cautious reshuffle by Mr Nesbitt - one that will not grab headlines but will give a number of MLAs an opportunity to get new experiences.
Despite newspaper speculation there was no promotion for Jo-Anne Dobson, the MLA for Upper Bann.
Tipped by the Belfast Telegraph to be the next deputy leader at Stormont she was not part of this reshuffle.
The UUP leader told reporters that she was as surprised by the speculation as he was.
Asked why no women were part of his reshuffle, Mr Nesbitt said both Jo-Anne Dobson and the other female UUP MLA Sandra Overend were happy in their current roles and asked to remain as party spokespersons on agriculture and the economy respectively.
Mr Nesbitt is conscious that, if he wants his party to attract more women voters, the UUP needs to be seen as female friendly and clearly he has an eye on promoting Ms Overend and Ms Dobson in future reshuffles.
He said the issue of female involvement in the party and recruiting more women was "certainly on my radar".
With that Mr Nesbitt's press conference was over and he exited the Great Hall - one wag on Twitter said it was more a "toe tap rather than a reshuffle" But that was not the end of the action.
Rather like a Shakespearean play, as the new leader departed, one of the old guard arrived.
Enter stage right David McNarry, Mr Nesbitt's Strangford running mate who has been expelled from the party for nine months.
The veteran MLA has questions of his own for the new UUP chief. He says his primary focus is to clear his name.
Close to the spot where Mr Nesbitt had unveiled his new team Mr McNarry spoke to reporters.
He said that the Ulster Unionist Party has a lot to do and "it didn't take Mike Nesbitt to come in and tell us that".
He described the new UUP leader as "someone in a hurry".
However, he did wish his former colleagues in the party well. He also wished good luck to those included in the new leader's first reshuffle. He added that "they will need it ".
Despite their differences that is something that David McNarry and Mike Nesbitt will probably agree on.