Pseudomonas outbreak review criticises health officials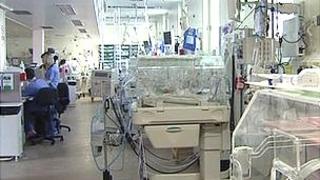 Some of the deaths in the pseudomonas outbreak may possibly have been prevented if the Belfast Health Trust acted sooner, according to the professor leading an independent review.
The Regulation and Quality Improvement Authority (RQIA) is investigating the four deaths at hospitals in Belfast and Londonderry in December and January.
It said the Belfast Health Trust should have declared the outbreak sooner and criticised a lack of communication between health officials.
The review team also found there was no common approach across neonatal units for declaring an outbreak.
Lack of co-ordination
Their report has concluded that the bug was linked to water from contaminated taps in neonatal units.
The independent review team, led by Professor Pat Troop, found there was a lack of communication between staff in health trusts during the outbreak.
They said this lack of structure and co-ordination may have impacted on how decisions were made.
Professor Troop told the BBC that her team would examine whether certain measures could have prevented some of the deaths.
"When the unit thought that they may have an outbreak, they stepped up their infection control but they did not test the water and they did not introduce sterile water for cleaning the babies," she said.
"Had they done that, it might have improved the situation somewhat earlier."
Three babies died in the Royal Jubilee Maternity Unit in January, while another newborn died at Londonderry's Altnagelvin Hospital in December.
The RQIA interim report was presented to the health committee at Stormont on Wednesday.
The team said it believed the most likely method of spread to babies was the use of tap water in washing during nappy changes.
Leaking roof
It has recommended that in future only sterile water is used for washing babies in neonatal units.
The review also said that a nurse reported a leaking roof in the Royal Jubilee Maternity's neonatal unit six days after a baby was diagnosed with pseudomonas.
Health Minister Edwin Poots received the interim report from the independent team last Friday.
Mr Poots said the Department of Health would take the lead in developing an action plan to implement Professor Troop's recommendations.
"What Professor Troop identified was that we need to have a neonatal network that is a continuum across Northern Ireland," he said.
Mr Poots said he would be meeting the Belfast Health Trust's chief executive and chair on Thursday to discuss the questions raised by the report.
"I think the Belfast Trust has answers to give, and I will be challenging them on these issues," he said.
"I think that it's vitally important that whenever letters go out from chief medical officers, they're taken seriously and they're responded to in a timely and appropriate fashion."
Belfast Trust medical director Dr Tony Stevens told the BBC he accepted the outbreak should have been handled differently.
"All our clinical staff are reflecting on how we handled this, and whether there was a short period of time when we could have done things differently," he said.
"We accept that, and we believe that if we had done things slightly differently, it might have made a difference for some but not all of the patients."
Sinn Fein's Sue Ramsay, who is chair of Stormont's health committee, said: "I have called on the health minister to bring forward a report in four weeks' time on how he is going to implement the recommendations contained in this report."
The first stage of the review addresses the causes and impact of the outbreak, and the full report is due by the end of May.