David McNarry hits back at UUP leader Mike Nesbitt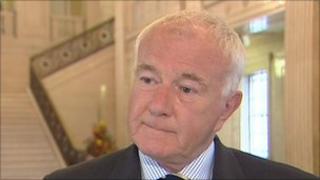 Assembly member David McNarry has hit back at new Ulster Unionist leader Mike Nesbitt.
Mr Nesbitt had appeared to rule out any possibility of the Strangford MLA being taken back into the party group at Stormont.
Mr McNarry was last week suspended from the party for nine months after he failed to attend a disciplinary hearing.
Mr Nesbitt was elected leader of the UUP on Saturday.
On Monday he said: "I cannot imagine any circumstances under which David McNarry would be back in the Ulster Unionist assembly group of MLAs when I have control of the whip."
Mr McNarry claimed that more than two years ago, when Mike Nesbitt was a victims commissioner, he met with the party leadership in Mr McNarry's home and said he wanted to replace the already selected candidate for the Westminster election of 2010.
Mr McNarry said Mr Nesbitt said he was arrogant enough to believe he could win the seat.
He ran, but lost to the DUP.
Mr McNarry said the new leader had now, without reason or explanation, informed him publicly he would not be given back the party whip.
He added: "I leave it to others to judge Mike's dramatic rise to the top and for colleagues to think about who may be next."
In response Mr Nesbitt said any meeting which took place in the past was private.
Mr McNarry resigned as the UUP Stormont whip in January after party leader Tom Elliot demoted him from the deputy chair of the education committee.
The Strangford MLA also resigned from the party's assembly group, but remains a party member.
His fall-out with Mr Elliot came after Mr McNarry gave an interview to the Belfast Telegraph detailing discussions between the UUP and DUP about unionist unity.