Second death at Royal Victoria Hospital investigated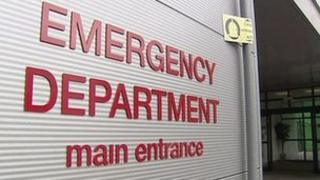 Belfast Health Trust is investigating the case of a second patient who died at the Royal Victoria Hospital, the BBC understands.
Earlier the trust told the family of a man who died while on a trolley awaiting treatment at the hospital's A&E department that they accept something went terribly wrong.
The 77-year-old, who suffered from motor neurone disease, died on 6 March.
His family met the trust's medical director this afternoon.
An investigation is ongoing into what happened, but the family have said they are not satisfied it is independent.
They told the BBC many of their questions remain unanswered as the trust insists they have to wait until the investigation is over.
As well as the investigation into the 77-year-old's death, the BBC understands it will also examine the death of a female patient in January.
She was in a ward when she died, not in the A&E department.
The team will establish what happened in the lead-up to the two deaths, how care was delivered and the level of communication between staff.
The male patient had been waiting almost 24 hours in the A&E department.
The family of the 77-year-old want to remain anonymous and are being represented by SDLP assembly member John Dallat.
Speaking of their concerns about the investigation, Mr Dallat said: "The independent inquiry's made up of people from different health trusts and people from health trusts tend to meet each, they know each other.
"But again I was assured that this would in no way influence it."
He added: "The trust officials, including the chief executive, have apologised to the family and have accepted that 'it was a combination of failings' which led to the pensioner dying alone on a trolley in the A&E department of the RVH.
"They also accepted that on reflection there should have been a post-mortem to establish the exact cause of death.
"The family were also told that all senior doctors have been briefed and working schedules changed to focus on the radical changes which have been implemented.
"No patient will ever spend more than 12 hours in a trolley wait."