Daughter of missing cyclist Samuel Campbell in new appeal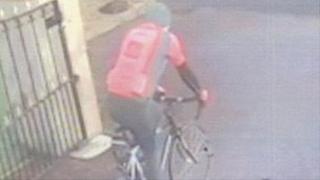 The daughter of a County Antrim cyclist, missing for three months, has appealed to him to come home.
Samuel Campbell, 49, set out for a bicycle ride from his Kells home at 14:15 GMT on 1 January but did not return.
His daughter Samantha made an emotional appeal to her missing father at a press conference on Monday.
"Daddy, please come home. You know how much you mean to us all, I miss you very much," she said.
She added that her father was "a huge part of all our lives".
Mr Campbell's brother, David, said: "Sam, if you are watching this appeal, please, please make contact with us. Whatever the problem, we can sort it out."
Mr Campbell was last seen wearing a red top with the symbol TCG, black cycling leggings and cycle glasses.
His bicycle was found abandoned on the coastline close to Larne, two days after he went missing.
Police have appealed to anyone who may have seen Mr Campbell to contact them.
They said they would like to hear from other cyclists who were in the area on that day, so that they can eliminate them from inquiries.