Northern Ireland autism services 'improved'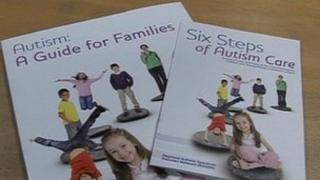 Events are being held across Northern Ireland on Monday to mark World Autism Day.
It is estimated about 16,000 people in NI are affected by the condition.
The Health and Social Care Board said there had been significant improvement in services and waiting times for assessments have been reduced.
The chair of the Regional Autistic Spectrum Disorder Network, Doctor Stephen Bergin, said specialist teams are now in place in all health trusts.
"To date, a lot of our efforts have been in working up services for children and we've done quite a significant amount of work in that respect in terms of building up diagnostic assessment services," he said.
"We do need more services in terms of specialist interventions and support in particular for older children and young adults.
"That's the next phase of this process."