Titanic Belfast 'like Sydney Opera House'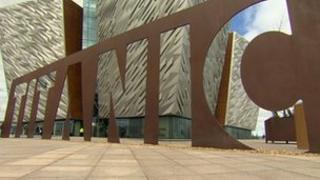 There had been much talk of a royal visitor, perhaps even a Hollywood movie star.
But in the end pride of place went to a 105-year-old east Belfast man, the last person alive to have seen Titanic launch into Belfast Lough in 1911.
Cyril Quigley was given a special, ornate wooden seat, and he sat almost throne-like between Peter Robinson and Martin McGuinness, the First and Deputy First Ministers.
Afterwards, he answered questions, written out beforehand in a notebook to help because of his hearing.
"It's like our Sydney Opera House," he said between sups of tea in the café, referring to the £97m building which glimmered and sparkled in the sun.
This was a day for looking forward, as much as to the past.
"Remember all those who lost their lives in the Atlantic, but remember most of all that the continuation of the peace process means we have the brightest future possible to give our children," Martin McGuinness said in his address from the podium.
To a fanfare of brass instruments, he and Mr Robinson, each with scissors, cut a giant blue ribbon swathed around a sculpture bearing the name Titanic.
Each beamed in pride, as 60 journalists from around the world captured the image and typed out a good news story about Northern Ireland.
"It's good, it lifts Belfast into good press after so many years of bad press," said one of those in the queue for tickets.
Two places down the line was a visiting American student.
"The Titanic is fascinating. It bridges our continents. When I heard this was opening I was really excited to come."
There have been advance ticket sales to residents of more than twenty countries and Titanic Belfast needs about 300,000 customers annually to break even.
That is about half the number of Northern Ireland's number one visitor attraction - wait for it - the Dundonald Ice Bowl, according to figures from the Northern Ireland Statistics Research Agency, which has both the Ulster Museum and Giant's Causeway in its wake.
Peter Robinson enjoyed the statistic, it being in his Castlereagh heartland.
"We are always up for a bit of competition," joked Mr Robinson. "Northern Ireland's not an either/or experience. Everything is welcoming to people who will come to visit."