Catholic PSNI recruits speak of experiences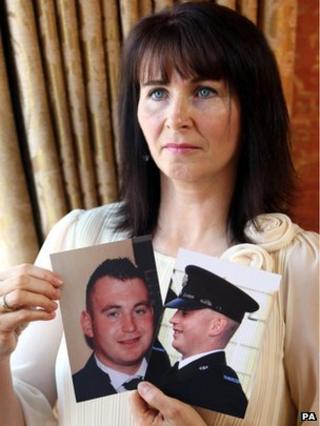 It is the first anniversary on Monday of the murder of the Catholic police officer Ronan Kerr, who died when a bomb exploded under his car in Omagh, County Tyrone.
The 25-year-old officer was targeted because he was a Catholic by dissident republicans who wanted to deter other people from his background joining the Police Service of Northern Ireland.
The PSNI was formed in 2001 following an overhaul of the old Royal Ulster Constabulary, with the aim of boosting recruitment among the Catholic community.
Ahead of the anniversary of Constable Kerr's death, BBC Radio Ulster reporter Barbara Collins has been talking to Catholic officers about their experiences in the PSNI for adocumentary broadcast on Sunday.
One officer she spoke to did not want to give her full name, as being in the police means you have to remain constantly vigilant because your personal safety is at risk.
Deirdre is from the Republic of Ireland but has lived in Northern Ireland for 24 years.
She fulfilled her childhood ambition of joining the police eight years ago, but her family was not so encouraging.
"I didn't tell my family about it until just before I was passing out, but they declined to attend," she said.
"I have colleagues who have never told their families what they're doing."
Deirdre said it was hard at first to get used to the security precautions needed, but "it's now just part of everything I do".
"The children have always understood that they're not to come outside the house until I've made sure the car is safe - they just think I'm checking that it's working," she said.
The detective constable said her colleagues all agree that the threat is greater to Catholic police officers, "because the dissidents don't want any political progress".
"They hate the fact that people of Northern Ireland are supporting the PSNI, and that Catholics are keen to join," she said.
"It's never going to stop me, and whenever they attack any of my colleagues, it just makes me more determined."
The Secret Policemanwas broadcast on BBC Radio Ulster on 1 April, and is available on the BBC iPlayer for seven days afterwards.