Antrim arson and vandalism attacks 'hate crimes'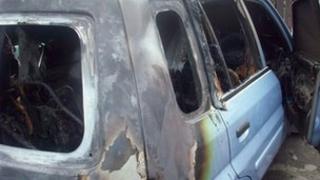 A man targeted in a racially motivated arson attack in Antrim overnight has said his wife and nine-month-old son were left in tears by the incident.
Martin Francis was at home in Tower Way on Saturday morning when police told him his car had been set alight.
A window of a house in Tower Link was also broken. Police are treating the attacks as hate crimes.
Mr Francis moved to Northern Ireland from India four years ago. He is now worried he will be targeted again.
"Around five o'clock the policeman knocked on my door and said Martin do you know your car is on fire," he said.
"So I was just shocked and I wasn't able to talk for a couple of seconds. I found my wife sitting in the corner of the room and she was crying, my baby was up and he also started to cry," he said.
He said he had not been targeted before and did not know who was responsible, but added that he feared there could be more attacks.
Alliance councillor Neil Kelly said it was "a despicable attack that was carried out by a bunch of cowards".
"The people responsible for this attack do not represent the town. Antrim is welcoming to everybody," he said.