Teen killer aimed to destroy peace process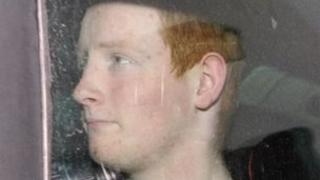 Teenage killer John Paul Wootton was born during the peace process in Northern Ireland but grew up determined to destroy it.
Two months before his 18th birthday, he killed police constable Stephen Carroll.
Wootton became part of the new generation of young men who have become embroiled in dissident republican violence.
Some call them teenage terrorists, others say they are simply bored, unemployed hot-heads. Whatever the label, it is clear they are extremely dangerous.
Only weeks before Wootton took part in the murder of PC Carroll, he tried to track down the address of another police officer.
He approached a young man he knew was dating the daughter of a policeman, and asked him where the officer lived.
The young man refused to answer and protested: "He doesn't deserve to be shot for being a cop."
Wootton replied: "A cop's a cop."
It was a cold response from a cold-blooded killer.
He was only three years old when the IRA called the ceasefire, and was seven when the Good Friday Agreement was signed in 1998.
He had no first-hand experience of what it was like in Northern Ireland in the 1970s and 1980s when more than 3,000 people were killed.
His entire life has been lived during the peace process.
So why did Wootton get involved in dissident violence?
Some young people are being encouraged by older men, who used be members of the Provisional IRA, to join the Continuity IRA, Real IRA or Óglaigh na hÉireann.
The old republicans do not want to risk going to jail, so they get others to do the shooting and bombing.
PC Carroll's widow, Kate, said she felt Wootton may have become involved due to "indoctrination".
She added: "These young kids are looking to make a name for themselves. They are just minions. These guys are sending out children to do a man's job."
Wootton lived at home with his mother, Sharon, in Lurgan. She was found guilty of obstructing the police investigation into the murder.
She removed computer equipment from the family home ahead of a police search.
When detectives found Wootton's computer files, they found a picture of him in paramilitary uniform.
He was already on the radar of the security services. A tracking device, linked to a satellite, was planted by a military intelligence unit in his car to keep an eye on his movements.
The gold Citreon Saxo was used on the night of the murder, in March 2009.
Now aged 20, he declined to give evidence in court during the murder case.
He also refused to answer police questions during 36 interviews after his arrest.
Those who know Wootton say he was never far from trouble in Craigavon.
One source told the Press Association: "He was a bit of a mouth.
"When trouble flared in Drumbeg, he was usually in the middle of it. A usual suspect at riots."
Even though he was a known trouble-maker, it was still a surprise to some that he became involved in murder.
It was a brutal killing. PC Carroll was lured into a trap and then shot in the head.
Wootton was not the only killer. The former Sinn Fein councillor Brendan McConville, who was twice his age, was also found guilty of the murder.
The number of dissident republicans is very small, and they have minimal public support.
The death of PC Carroll shows that amongst their ranks are ruthless young men who are prepared to kill.
However, the court case shows that the police are getting better at catching them.
It also demonstrates that, unlike the IRA, the dissidents are bad at covering their tracks.
You can follow Mark Simpson on Twitter - @BBCMarkSimpson