Strictly Titanic with Len Goodman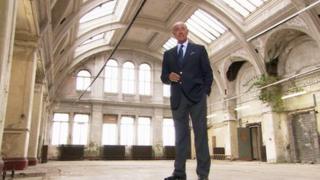 What am I, Len Goodman, dancer and Strictly judge doing making a series about Titanic, you might ask?
Well, before I was a full-time dancer, I was a full-time welder. It was the early 1960s, and I was working for Harland & Wolff at their shipyard in east London.
This was the company that had built Titanic 50 years earlier, not in east London, but in east Belfast.
So, while it's a small but personal link to the ship, it was more than enough to prick my curiosity to want to find out more.
I was shocked at some of the stories I discovered.
As she headed out to sea on her maiden voyage in 1912, Titanic carried over 2,200 passengers and crew. They were the rich, the poor and everything in between, a perfect cross section of western society at the end of the industrial revolution.
When she hit an iceberg and sank, 1,500 of those men, women and children died.
That's the Titanic story we all know, the one we've seen on screen in various Hollywood movies and TV dramas over the years.
Most of them end with the image of the ship sinking dramatically beneath the Atlantic, while survivors, in a handful of lifeboats, are left drifting about in the cold, dark night.
But as I found out while I was making this series, the sinking of the ship was not the end of the story. It was, in fact, the beginning of hundreds more.
For survivors, and for the families of those who died in the disaster, the tragedy marked the start of events that, even a century later, are still unfolding. I was lucky enough to get to meet some wonderful characters who told me how their families' Titanic tales are continuing today.
In Eastbourne, I met Yvonne Hume, the great niece of Jock Hume, the violinist in the famous Titanic band. His death in the sinking instigated a bitter family feud that tore his family apart.
For a century, two sides of his family were entirely lost to each other. Yvonne told me how only recently, following her own research, has she been reunited with cousins she never knew she had.
In Southampton, I met Angus Cheape. His great grandfather, Bruce Ismay, ran the White Star Line and he effectively owned Titanic. Ismay survived the disaster by escaping from the sinking ship in one of the lifeboats.
It was an act that saved his life yet cost him his reputation. His family scarcely spoke about Titanic ever again, and it was not until Angus left school that he discovered Titanic had anything to do with his family.
These are only two stories that remind us that the legacy of Titanic continues to live on - and not just in the imaginations of Hollywood film producers.
I was staggered to discover how Stanley Lord, the captain of a steamer close to Titanic when she sank, was, when he died in 1962, still blamed for the deaths of all on board Titanic.
It was not until Titanic's wreck was discovered in the mid-1980s that his name was cleared. Though, even today, experts continue to debate whether Lord could have done more to go to Titanic's rescue.
One thing that became clear the more we filmed the series was that even though Titanic sank a century ago, the story is still very much alive in the folklore of families around the world.
Philip Littlejohn, whose grandfather Alexander James Littlejohn was a Titanic first class steward is still indignant at the treatment his grandfather received when the ship sank. He was discharged at sea, and left penniless by the White Star Line in New York.
Making the programmes has shown me that the Titanic story is certainly not about steel and rivets - it's about people.
It represents not one story, but thousands. And amongst all that drama, each of us can find someone to identify with.
And, if nothing else, the tragedy makes us ask who would I be on that ship, and as she sank, what would I do?
Titanic With Len Goodman, Friday 30 March, BBC One, 20:30 BST