Minister rules out some Ulster Scots and Irish language road signs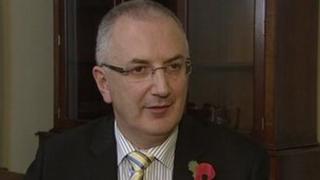 Transport Minister Danny Kennedy has decided not to add Ulster Scots and Irish to some road signs in Northern Ireland.
That is despite two thirds of those who responded to the public consultation wanting them, or feeling the proposals did not go far enough.
Mr Kennedy has said he cannot justify the expenditure.
However, he has not divulged how much the scheme would have cost.
"It is not simply a matter of cost," he added.
"The judgement I have had to make is based on a relatively small feedback in terms of the public consultation as to whether or not it justifies in the current economic climate that somehow we would choose to spend very valuable resources on an issue like bilingual signs where there is not clear community agreement for it."