When Belfast boomed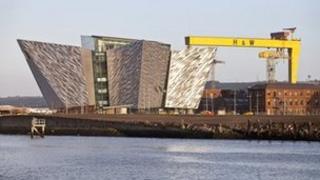 In 1912 it was called Boomtown Belfast and people from all over came to work in the city.
Back then it was Ireland's biggest city and it had the highest wages.
It was a world leader in manufacturing and was famous for its linen mills and shipbuilding.
But despite the prosperity, cracks were already beginning to show.
William Blair from the National Museums NI says it was already a very divided city.
" You had the support for and opposition to Home Rule... the political fault lines in the city were very clearly defined in 1912," he said.
"The atmosphere was becoming ever more tense."
And at times these tensions would have spilled over into the shipyard with sectarian disturbances.
But Harland and Wolff's focus would have been on its order book.
New life
Almost a million people were emigrating from Europe to the United States each year and there was a demand for bigger and better ships - ships like the Titanic.
This feat of engineering was something the people of Belfast were extremely proud of - that is - until the terrible news came through.
Now famous for all the wrong reasons, it became something the city and the shipyard wanted to forget about.
But Una Reilly from the Belfast Titanic Society says it is now time to tell the story of where the ship came from.
"Let us use the hook of Titanic to bring people - new life to this area... and bring life back to what was a hiving place in 1912."
The shipyard has seen a huge amount of changes since the sinking of the Titanic.
For many years it continued to thrive despite the terrible tragedy.
The First and Second World Wars brought a big demand for ships and Harland and Wolff continued to be a major employer in Belfast.
Today, it is a completely different place.
Although it still repairs ships - the company hasn't built one in nearly ten years.
At its height it employed more than 30,000 people - now the figure is around 700. However, unlike many of its contemporaries, it has survived - although in a different guise. The company now makes wind turbines.
But it will always be famous for shipbuilding and it will always be famous for building one ship.
One century on, it seems like that is something to be proud of.