UUP failed 'to give leadership'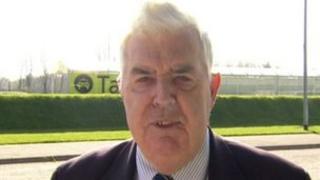 He was an Ulster Unionist minister at Stormont in the early 1970s and deputy leader when the Belfast Agreement was signed, but Lord Kilclooney - John Taylor - delivers a devastating verdict on the party of today.
"I think in recent years the Ulster Unionist Party has failed to show what it stands for," says the former MP who left the UUP on becoming a Cross-bench peer.
"First of all, I can't think of any policies it really has promoted strongly in the last five years or so; secondly it has failed to show a clear distinction from other parties and thirdly (it has failed) to stop rowing within themselves."
The decline has been rapid. As recently as the general election of 1997 the party won 10 of the 18 seats available. Today it has none.
So why has it happened? Many would point to the divisions which opened up after the party under David Trimble signed the Belfast Agreement in 1998.
But Lord Kilclooney says that is too simplistic.
'Significantly failed'
"Lack of policies is not related to the Good Friday Agreement. After all, the Good Friday Agreement was a very strong policy by the Ulster Unionist Party and the people supported it in a referendum," he says.
"It's since then that the Ulster Unionist Party has significantly failed to give leadership to the population. The population don't know what the Ulster Unionist Party stands for."
Nevertheless, splits - whatever the reason - have been a significant factor in the decline of a party which ruled Northern Ireland single-handedly for 50 years and remained its biggest party until 2003.
Perhaps its modern leaders forgot the maxim predecessors like Sir James Craig and Lord Brookeborough held dear - united we stand, divided we fall.
"It was the dominant party simply because the leadership was determined that under no circumstances would that party be allowed to be divided," says Brian Walker, Professor of Irish Studies in Queens University's School of Politics.
"Unity was a key priority of the Unionist Party pre-1970."
It was under the leadership of Terence O'Neill that the splits began. His liberal agenda was disliked by many in the party and the Troubles would see unionism splinter further.
'Stayed too long'
It is often said David Trimble put country before party. He signed the Belfast Agreement but left a significant section of his party behind him.
Bill White, a former Ulster Unionist constituency chairman, who is no longer a party member, believes Mr Trimble stayed too long but says his successors did little to arrest the slide.
Mr White said: "I think when Reg (Empey) then took over and Tom (Elliott), I think the party in all that period of time wasn't really concentrating or looking at the party itself and how it performs in elections and planning for future elections thoroughly enough.
"I was involved in seven election campaigns in my time. They certainly have an image of unprofessionalism, lack of organisation and doing everything at the last minute.
"I always had this feeling that if there was an election in May, the Ulster Unionist Party would start preparing for it in mid-March."
Bill White says there may not be many more chances left.
"The party's really now in the last chance saloon," he says.
"It really needs to get this right and start putting in significantly improved performances in the forthcoming elections coming up in 2014 and 2015 or else, yes, they could disappear from the political landscape."