'Fly through' Titanic Belfast before the doors are even opened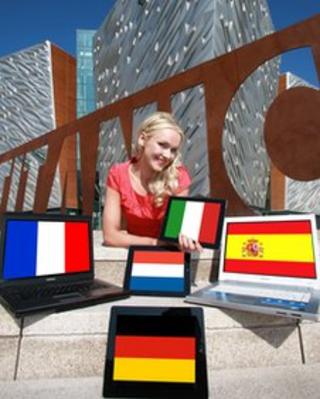 Fancy being one of the first people to see the £100m Titanic Belfast visitor attraction?
Well you can on Friday, without even leaving the house or office.
Tourism Ireland - who is spending over £4m promoting Titanic Belfast - has organised an innovative live blogging tour of the exhibit, the day before it is officially opened.
From 11:00 BST six bloggers will get to experience the new tourist attraction during a two-hour tour.
They will broadcastliveand be able to interact in real time with hundreds of thousands of potential visitors from across the UK and mainland Europe.
The blogs will be in English, French, German, Spanish, Italian and Dutch.
Followers of the live blog will be able to have their questions answered, see pictures and video footage from inside the building that brings the Titanic story to life.
The final post on all six blogs will be a three-minute 'fly through' of the tour as seen through the eyes of a first time visitor.
Monica MacLaverty from Tourism Ireland explained that the entire concept is about making as many people as possible aware of the Titanic Belfast exhibit and encouraging them to come and see it for themselves.
"It's such an iconic experience. We really see Titanic Belfast as the icon for the island of Ireland," she said.
"People will come to see it and once they are here they will learn so much about Belfast and the rest of Ireland
"The purpose of the blog when it starts is about giving people the opportunity to see it. The kind of experience that doesn't come around every day.
"You will be taken through all nine galleries. The live bloggers will be available to respond and interact with the people in real time. That's what we are really excited about.
"After the live blog tour we are posting a three minute 'fly through'. It's going to be the very last post on the blog. It's a small preview of the tour. It's just a taste of the tour."
And it is the quality of the tour, the breadth of the exhibit and the timeless interest in the most famous ocean liner in the world that Tourism Ireland hopes to utilise.
"We have had this clock counting down on the website. It started on 19 March. It's funny seeing it now with very little time to go," said Ms MacLaverty.
"The whole initiative is taken from the perspective of a first time visitor. It's about the experience of what it all means.
"Everything has been handled with the utmost respect and has been done really well.
"What we really want is to get the message out there and all these people to visit Belfast."