David McNarry suspended by Ulster Unionist Party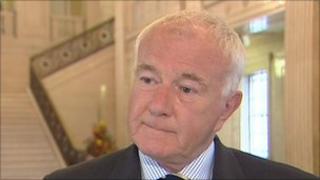 The MLA David McNarry has been suspended from the Ulster Unionist Party for nine months.
The party wrote to Mr McNarry informing him of the decision on Thursday.
He was due to attend a disciplinary hearing on Wednesday but did not for legal reasons.
Mr McNarry resigned as the UUP Stormont whip in January after party leader Tom Elliot demoted him from the deputy chair of the education committee.
The Strangford MLA also resigned from the party's assembly group, but remains a party member.
His fall-out with Mr Elliot came after Mr McNarry gave an interview to Belfast Telegraph detailing discussions between the UUP and DUP about unionist unity.
In a statement, the UUP said: "The Ulster Unionist Party can confirm that a letter has been issued to David McNarry MLA by the party's disciplinary committee and that he has been suspended from the party with immediate effect.
"As this remains an internal disciplinary matter, the party will not be making any further comment."
Mr McNarry told the BBC he did not want to comment on the matter.