Gorse fires in Northern Ireland 'will cost lives'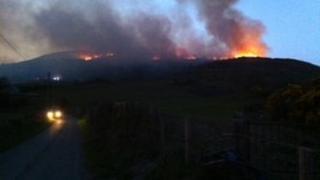 Lives are being put at risk by gorse fires in Northern Ireland, a Sinn Fein councillor has warned.
Newry and Mourne councillor Pat McGinn said the fires could also be diverting the vital resources of the emergency services away from a serious incident.
Firefighters tackled two large gorse fires on Wednesday - one at Camlough Mountain and another at Mallaboy Lane, Dunloy, County Antrim.
The Fire Service appealed to the public to help prevent such blazes.
Six fire engines were called to the scene of the blaze at Camlough Mountain, which also spread to a nearby forest.
Mr McGinn said £8m had been spent last year tackling the fires.
"These reckless actions are putting lives at risk," he said.
"If it is proved to be the case that this mountain fire has been started deliberately, those behind them must stop and do so immediately.
"Many homes are at risk of these fires and as the emergency services are already at breaking point these may be left vulnerable."
He said the fires posed a danger to hill walkers, animals and wildlife.
Forest Service staff worked alongside firefighters using beating equipment to try to contain the blaze at Camlough Mountain.
It took crews 45 minutes to reach the blaze on foot.
Assistant Chief Fire Officer Dale Ashford said firefighters often battled difficult conditions to tackle these blazes.
"I would appeal to the community to help us to try to prevent these things happening," he said.
"This type of fire does create a drain on our resources and does require us to be working at fairly large incidents for a long period of time.
"Some people don't understand the consequences of what they do. Aside from the danger to the public, there's a danger to the firefighters sent out to deal with these incidents and then there's the affect it has on the environment."
Brian Wilson from the Northern Ireland Forestry Service said the fires were either started deliberately or as a result of burning getting out of control.
"We don't have a big resources now and for them to be needlessly fighting fires when we are trying to provide outdoor areas and putting a lot of money into forests for everyone to use... for these to be burnt is disappointing," he said.
Both fires are now under control.