Crews tackle two gorse fires in Antrim and Armagh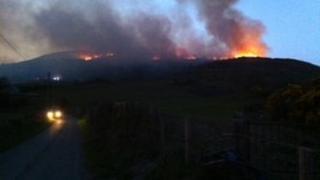 Fire crews have tackled two separate gorse fires across Northern Ireland.
About 40 firefighters dealt with a fire at Mallaboy Lane, Dunloy, County Antrim, which broke out at 14:30 BST on Wednesday.
Six engines were called to the scene of a large gorse and forest fire in County Armagh.
Many acres of gorse and part of a nearby forest went on fire at Camlough Mountain. People living nearby said the fire started at about midday.
Forest Service staff worked alongside firefighters using beating equipment to try and contain the blaze.
Accessing the fire proved difficult as the crews took 45 minutes on foot to reach the blaze.
Group Commander Lloyd Crawford from the Fire and Rescue Service said: "We have gorse which is about waist high and we have a range of forestry trees which are some 20ft to 30ft high," he said.
"The fire is moving through the gorse and trees very rapidly which has caused extreme difficulties for firefighters trying to access the fire and control it.
It is not known if the fire was started deliberately.