New Titanic sculptures unveiled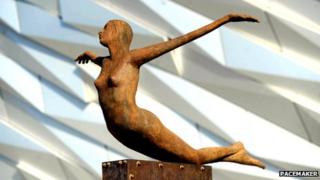 Two new sculptures related to the Titanic have been unveiled in Belfast.
A sculpture depicting shipyard workers walking home from the Harland and Wolff yard was presented at Pitt Place on the Newtownards Road on Wednesday.
The sculpture of the workers is by artist Ross Wilson, also responsible for the nearby C.S. Lewis sculpture.
On Tuesday, chaplains of the four main denominations gathered to dedicate a new "Titanica" brass sculpture outside Belfast's Titanic signature building.
Ross Wilson's sculpture was unveiled at a ceremony attended by the First Minister Peter Robinson, the Tourism Minister Arlene Foster, and East Belfast MP Naomi Long.
It marks the completion of East Belfast Partnership's "Re-imaging Newtownards Road" project, to reflect the part workers in the area played in building the Titanic.
The "Titanica" sculpture at the Titanic Belfast building of a female figure is by the renowned Irish sculptor Rowan Gillespie.
From the front it takes on a cruciform expression. From the sides it aims to compliment the Titanic building.
The sculpture weighs three-quarters of a ton.
The Titanic Belfast building opens to the public on 31 March.