PSNI spent £4m on supergrass case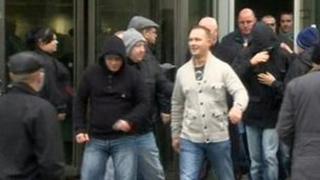 The PSNI spent more than £4m on the first so-called supergrass trial in Northern Ireland for more than 25 years.
Twelve men were acquitted of all charges against them after a judge said the two main prosecution witnesses were liars and "ruthless terrorists".
The costs were revealed in a letter to the Stormont justice committee.
Their trial is expected to be one of the most expensive ever held in Northern Ireland.
It relied on the evidence of so-called supergrasses, Robert and Ian Stewart.
Nine men involved in the UVF supergrass trial were acquitted of the murder of UDA leader Tommy English.
They included the alleged former UVF leader in north Belfast Mark Haddock.
Thirteen men had been charged with more than 30 offences including the murder of rival loyalist Mr English, kidnapping, and UVF membership.
Twelve out of the 13 were acquitted of all charges. Neil Pollock, 36, was convicted of possessing items intended for terrorism.
A letter from the Department of Justice to the justice committee at Stormont revealed that the estimated costs for the PSNI are slightly more than £4.3m.
That figure included the cost of the investigation and providing security during the 72-day trial.
The Public Prosecution Service spent £520,000, and the court service another £219,000. The cost to the prison service was more than £768,000.
The combined costs revealed on Tuesday totalled more than £5.8m.
However, the figure does not include the most expensive part of the trial - the legal aid fees for the defence barristers and solicitors.
The Department of Justice said those costs have still not been finalised.
The DUP's Paul Givan, who is chair of the Assembly's justice committee, said a review of the system is needed.
"We never want the scenario where prosecutions don't take place because of the costs that could be associated with it," he said.
"But we do need to have confidence that the decision makers in all of this are making the correct decisions whenever they decide to take a case, because the taxpayer is being left to foot the bill and the family who lost their loved one are not satisfied either."