Horse trading ban at Auld Lammas Fair in Ballycastle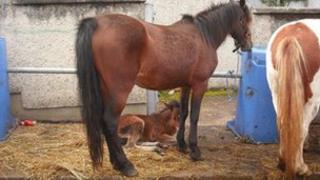 Horse trading has been banned at the Auld Lammas Fair in Ballycastle.
Moyle District Council took the decision at a meeting on Monday night. Horses have been sold at the festival every August for generations.
The ban follows concerns about health and safety as well as animal welfare.
Moyle councillor Randall McDonnell said the nature of horse trading had changed in the past 50 years and it had actually become "dangerous".
"Nowadays it's a sort of a spectator sport. It's very unattractive," he said.
"It was held in a very confined area. An awful lot of naive people, naive with regards to horses - both adults and children - wandering about within about six inches of the heels of horses and even children riding horses up and down among the public."
He said the council felt a much better option was a Shetland Pony Show on the first day of the event, and a Donkey Show the following day.
"It would be altogether much more under control, much more seemly and still a very, very valuable spectacle for people coming to the fair," he said.
The fair, held in Ballycastle on the last Monday and Tuesday in August, has been running for about 400 years.
It has been growing in recent years with more than 400 stall-holders now catering for crowds in excess of 200,000.