Thousands run Sport Relief Mile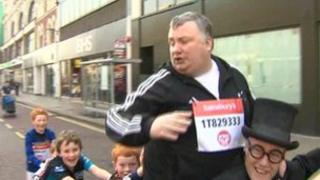 Nearly two thousand people took to the streets of Belfast on Sunday to run in the Sport Relief Mile.
On what was a beautiful day in the city, 1,776 participants set off from Custom House Square to run one, three or six miles.
Belfast was just one of 17 mile venues across the United Kingdom and everyone received a medal when they crossed the finish line.
Those taking part in the Belfast mile included BBC Radio Ulster's Stephen Nolan, television presenter Zoe Salmon and former Olympian Sonia O'Sullivan.
Before the race, Zoe Salmon warmed up with the crowd at the Albert Clock.
"What an amazing turnout and what glorious weather," she said.
"It's amazing to be here today and I'm excited about going on a nice little stroll around Belfast."
But surely a few miles around the city centre was not too challenging for former world champion runner Sonia O'Sullivan.
"It was hard work," said Sonia.
"But you always feel good after you go out, push yourself hard and get a good workout."
Stephen Nolan was delighted to reach the finish line.
"It's been an amazing day," he said.
"We've had young and old really trying their best and it's all for an incredible cause."
Sport Relief has so far raised £52m.
The money raised will help to transform the lives of poor and vulnerable people at home and across the world's poorest countries.