Drumming her way to musical glory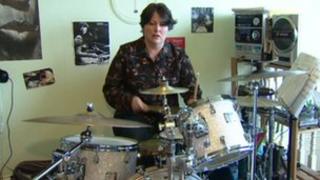 In a remote loft in the County Down countryside, a drummer pounds away on her drum kit but thanks to the internet, her skills can be judged across the world.
Kasey Peters is one of the strong contenders in a female-only online competition.
Hit Like A Girl 2012 could well bring prizes and high profile work for whoever wins and so far there have been hundreds of entries.
In recent days, 48-year-old Kasey has risen from number nine on the leader board to number seven so she is in with a big chance of getting to the final judging.
The contest is only for females and the other main contenders are a 12 year old in Indonesia and teenagers from the Americas and Australia.
"My dad was a keen drummer so I started early", said Kasey.
"There's a photograph of me aged four beating away on the drums."
She has played in bands over the years but now mainly concentrates on teaching both private pupils in one-to-one lessons and in schools.
Kasey said things are looking up for women drummers and that is why she entered the first ever Hit like a Girl contest.
One of her teenage students, Matthew, has been telling all his school friends to vote for Kasey.
"I've had a lot of people coming up to me and saying she's got very good skills, they're very impressed," he said.
"They're a bit surprised that my drum teacher is a girl but I tell them she is very good."
Kasey came to Northern Ireland from California 15 years ago to set up home and she is the only entry from Northern Ireland.
With strong competition from much larger countries like Mexico, Brazil and the United States, she said she needed to get the public behind her.
"We're only a small wee province here and you can see from Twitter and Facebook and the competition website that people are really getting behind their drummer girls," she said.
You can see some on Kasey's drumming on Friday's BBC Newsline at 18:30 GMT on BBC One.