Former Methodist minister Macaulay jailed for child images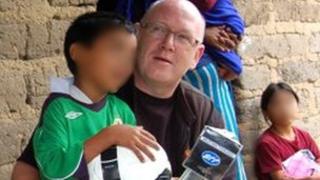 A former Methodist minister has been jailed for one year for having an indecent video and 78 indecent images of children.
Fifty two-year-old William Alan Macaulay, from Ballynacree Drive in Balnamore near Ballymoney, pleaded guilty last month to 14 charges.
The charges dated over a two-month period between September and November 2010.
Macaulay was also placed on the sex offenders register for 10 years.
Macaulay, who was a former chaplain at Magilligan Prison, has resigned from the ministry and also left his position as a youth coach at one of Northern Ireland's top ladies' hockey teams in Ballymoney.
Macaulay had been on bail but appeared in the dock at Antrim court on Friday to hear the prosecution state that at least 15 of the images were in categories four and five - the two most serious levels involving children as young as five.
Problem
The court heard that the images and video were found on Macaulay's computer and external hard drive after a concerned mother phoned the police about inappropriate use of an internet chat room by the accused who was communicating with a teenage girl.
When the police went to his home the defendant voluntarily gave up his computer, hard drive and mobile phone.
When examined they showed he had been downloading images and sharing them with others.
The court heard that when questioned by police he admitted he had a problem with excessive use of pornography and this had made him develop an interest in teenage girls.
He also stated that he had used internet chat rooms to search for others with a similar sexual interest.
A defence lawyer said that Macaulay had no criminal record and up to this point had an exemplary character, giving to people through his ministry and rendering assistance to those less fortunate than himself.
He added that the defendant had made full and frank admissions to the police and that he had begun a downward spiral into illegal material after legal adult pornography "wasn't enough anymore".
Jailing him for a year Judge Corinne Philpott said this type of offending was rising, and that Macaulay had shown no evidence of trying to address his offending.
She added that it was hard to understand how a man who worked with disadvantaged children could not comprehend the damage caused to innocent children by his behaviour.
Macaulay was placed on the sex offenders register for 10 years, and was also prohibited from having any contact with children, working with young people or having any access to a computer.