'Glassing' attack woman is jailed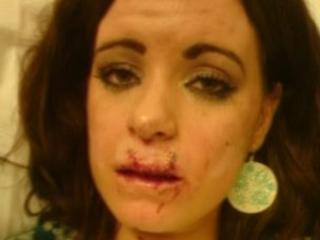 A 22-year-old Londonderry woman who inflicted permanent scars on another 22-year-old woman by smashing a pint glass into her face, has been jailed for two and a half years.
Gemma Doyle from Malin Gardens admitted smashing the glass into the upper lip of 22-year-old Aine King.
Ms King was celebrating her birthday in a local night-club.
Judge Piers Grant told Doyle that she would serve 15 months in custody and 15 months on licence for the assault.
As a result of the injuries sustained, on 19 June 2011, Ms King had to receive 10 external sutures and 16-20 internal sutures to her upper lip.
Londonderry Crown Court was told that Ms King was acting as peace-maker in a row between Doyle and another woman when the unprovoked act took place in the night club toilets.
Doyle then left the scene but later phoned Ms King's friend and told her "it was meant for you, she should not have got in the way".
Nightmares
Judge Grant said that Ms King suffered serious lacerations as a result of which she now had restricted movement of the upper lip.
He said that Ms King's graduation ceremony was also marred by the serious injuries in that she was reluctant to appear in public to accept her graduation certificate.
Judge Grant said the victim still suffers from nightmares, fears for her own safety and is extremely self conscious about her permanent scars.
He said a victim impact report also stated that Ms King will require continuous counselling and that the permanent scarring was clearly visible at conversation distance even when Ms King wore heavy make-up.
The judge said glassing cases were all too prevalent in the jurisdiction and required immediate custodial sentences, and that Doyle added insult to injury to her victim by trying to blame Ms King.
He said a pre-sentence report said that while Doyle, who had no previous convictions, did not pose an immediate risk of serious harm, it did assess that she presented a medium risk of re-offending when she took alcohol.
Imposing the sentence, Judge Grant said Doyle had to address her alcohol problems.
He recommended that she should attend a programme to deal with her alcohol abuse and a separate programme to deal with her compulsive recklessness and behaviour.