Minimum alcohol price by 2013, says Edwin Poots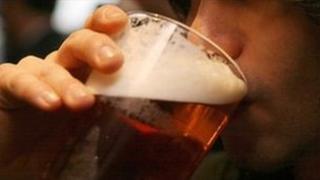 The health minister said he hopes to implement a minimum alcohol price by next year.
Speaking to the Talkback programme, Edwin Poots said it would take until next autumn to bring in legislation which could "not be challenged".
On Friday, it was announced the government was proposing a minimum price of 40p per unit of alcohol in England and Wales.
This was an effort to "turn the tide" against binge drinking.
A new alcohol strategy in the two countries also aims to help local areas tackle problems and work with the drinks industry to encourage responsible drinking.
Similar proposals are already being considered by the Scottish Parliament and legislation is hoped to be passed there by late May or early June.
"They are taking the right path," Mr Poots said.
"They are following us (Northern Ireland) as we have been looking at the issue of cheap alcohol and the damage it does to society."
The minister said alcohol misuse was one of the main threats to public health in Northern Ireland and research had shown that it cost up to £900m every year.
He explained the process of making the plans law.
"We are going out to tender some work which will lead to legislation, which means it cannot be challenged by supermarkets who wish to continue to sell," he said.
"This will allow us to move ahead with a consultation with the public and enable us to implement this next year."
'Blue bag brigade'
The health minister said he was "working closely with Irish Republic".
In January, he was joined by the Irish Republic's Health Minister Dr James Reilly and Minister of State for Health Roisin Shortall, where a cross-border strategy on a minimum price for alcohol was decided.
Mr Poots said he would consider charging 45-50 pence per unit of alcohol.
This would mean that a bottle of cider with 14 units of alcohol, which currently costs £2.30, would be increased to £7.
"For a person who takes a moderate amount of drink each week, the impact on them will probably be about £10-£15 a year," he added.
"Where this will make a real difference... is the blue bag brigade - the people who are buying inordinate amounts from supermarkets."
Colin Neill, chief executive of Pubs of Ulster, has welcomed the government's plans to introduce a minimum alcohol price in England and Wales and hoped the development would drive things forward in Northern Ireland.
"We are greatly encouraged that decisive steps are now being taken across the UK to address the issue of alcohol misuse and abuse," he said.
"Pubs of Ulster has been at the forefront of calls for minimum pricing for a number of years and has been working closely with Social Development Minister Nelson McCausland and Health Minister Edwin Poots to develop a model that is most appropriate for Northern Ireland.
"Recent tragic events in Northern Ireland have highlighted the immediate need for a responsible approach to the sale and consumption of alcohol and whilst we are making progress, more still needs to be done."
The Northern Ireland Retail Consortium has said prices and promotions do not cause irresponsible drinking.