Symbol of war promoting peace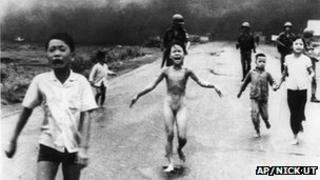 As a young girl she appeared in the photograph that captured the horror of the Vietnam War.
Kim Phuc was seen running from a napalm attack when her photograph was taken by Nick Ut.
Now a goodwill ambassador for Unesco, Kim travels the world sharing her story. And while on a visit to Belfast she spoke to Evening Extra.
Through her work she said she hoped to moved on from being a symbol of war, to one of love, hope and forgiveness.
"I now consider that picture a powerful gift to me to work for peace," she said.
"I want to let people know how horrible war is. It's suffering, it's pain, it's loss."
Kim was just nine years old when she was caught up in the attack. A South Vietnamese plane mistakenly dropped the napalm on South Vietnamese troops and civilians.
"I remember very vividly hiding in the temple with the South Vietnamese soldiers and other villagers for about three days," she said.
"On the third day, I remember after lunch I heard the sound of burning around the temple and then suddenly I heard the soldiers call to the children: 'We have to run'.
"They asked the children to run first, then the adults to run after us.
"When I was just in the front of the temple I saw the planes getting so close, so fast, and then I saw four bombs landing down and suddenly I saw the fire everywhere around me.
"I saw the fire on my left arm and used my right hand to brush it.
"My clothes were burnt off by the fire, but I thank God my feet were not burned so I was able to run out of the fire.
"We kept running and running until we felt too tired to run anymore.
"I was screaming and one of the soldiers gave me water to drink and poured water over me. At that moment I passed out."
Kim remembers nothing from the immediate aftermath of the attack, but later learned the photographer who had taken her picture had saved her life.
"It's a miracle I survived," she said.
"I learned from the photographer that after he took the picture he rushed me to the nearest hospital. I'm so thankful.
"I was in hospital for 14 months and went through 17 operations, with 65% of my body burned."
As an adult Kim began a foundation to help those affected by war.
"I want to help all children who are victims of war around the world. We build hospitals and schools," she said.
"For many years I suffered so much, because the more that picture got famous the worse my private life got.
"But now I'm so thankful he took the picture and captured the moment in history."
On Thursday, Kim was in Belfast to speak to members of Prison Fellowship NI.
It is an organisation that works with those in prison, their families and prison staff offering spiritual and emotional support.