Universal credit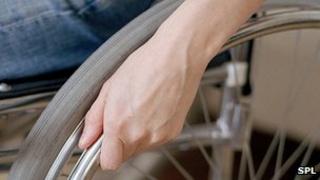 In small halls across Northern Ireland, community leaders are starting to brief people about what they can expect from welfare reform.
One meeting in Suffolk, west Belfast, was addressed by a panel which included trade unionist Maria Morgan and Welfare Rights Advisor Agnes Fraser.
And some of those who attended told the BBC they didn't like what they heard about changes in welfare.
"Scary," said one woman. Another declared: "I think it's an attack on the poor and most vulnerable."
Welfare costs around £190bn a year in the UK.
The government is insisting that the changes will simplify welfare, support those in need and make work pay.
However, Ms Fraser said with £18 billion in Treasury cuts coming in the next few years, she is not convinced.
"I don't call the reforms welfare reforms. I call them welfare cuts," she said.
She said she would welcome simplifying a complex system, but claimed the changes have not been well thought out.
One of the big changes aimed at simplifying the system is Universal Credit.
That is the new single monthly payment of benefits and tax credits.
Some benefits are being changed, other scrapped and others subsumed into Universal Credit.
And if Northern Ireland follows Westminster's lead, then the new Universal Credit will take in income-based Job Seeker's Allowance, Housing Benefit for those of working age, income -related Employment and Support Allowance and Income Support.
These along with Child Tax Credit and Working tax credit will, along with other items, become part of the new monthly payment.
It is expected the maximum any household can claim is £26,000 a year.
Universal Credit does not include the new benefit, Personal Independence Payment, which will be introduced to replace Disability Living Allowance.
'Dysfunctional'
Bill Manwaring, a Conservative politician, who works on the Shankill Road, said there needed to be reform.
He said the system was too complex and had become "a monstrosity of paper."
"We need to change the benefits system," he said.
"It's dysfunctional. It's causing more harm than it's causing good. It's so confusing that people aren't getting what they deserve.
"They're not getting what they need. That needs to change and that's at the core of this reform."
Trade unionist Maria Morgan of Nipsa claimed the cuts to welfare could take as much as £600m out of our economy, although this figure has not been verified.
She said she was not convinced by assurances from government that no one will be worse off under the new regime being introduced. She said this was because cuts have already come in over the past two years.
These include cuts to Housing Benefit, the scrapping of the Health in Pregnancy grant as well as child benefit for higher rate tax payers.
"If this were about the simplification of benefit you would get no argument from us," she said.
"If it were about moving people from benefit into work, you would get no argument from us.
"The situation is predicated on cuts - £18bn. We have grave concerns."
'Disincentive'
Lynn Carvill, of the Women's Resource and Development Agency, warned that a single payment to one person in the household could disadvantage women.
She said men are more likely to take charge and that money will go from "the purse to the wallet".
She also claimed the incentives to work are geared towards one half of a couple working.
She said women could be discouraged from working and be expected to stay home with the children.
"My question is why does that disincentive actually exist," she said.
"We would say you are actually putting women back 50 years. You're not giving them equal access to resources and money."
The Department of Work and Pensions website said the vast majority of second earners would not see their incentives to work affected under Universal Credit.
Les Allamby of the Law Centre NI said one advantage of Universal Credit was that some people on low incomes would be better off.
"Families where one person works will find they could be considerably better off," he said.
But he claimed that Universal Credit is not as good a deal for others, and in some cases low-income families would be worse off if both partners work.
Changes to Working Tax Credit coming in shortly will increase the number of hours a couple has to work from 16 hours a week to 24 before they can get the tax relief.
One man who attended the Suffolk meeting, Pat Lawlor, said he was concerned that his family could lose out if his wife could not get more hours at work. He said he felt the family of five was "between a rock and a hard place".
Stormont will be introducing his own Welfare Reform Bill in the next few months, and the executive and assembly will face pressure to be flexible in some areas, such as single monthly payments.