Holyland report says student housing needed elsewhere in Belfast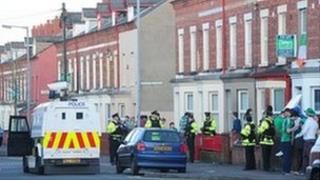 An independent report into Belfast's Holyland area is expected to recommend that more student housing is provided elsewhere in the city.
The study was commissioned by Belfast City Council in 2010 and is due to be published on Tuesday.
It looked at issues like the cost of policing in the Holyland, the provision of services, and the housing situation.
The final version of the report will contain a number of recommended actions on student housing.
Anearlier versionhighlighted the high cost of "managing issues" in the Holyland.
It found that annual costs for policing, cleansing, wardens and other services rose from £0.5m in 2006 to £2.7m in 2010.
It said that the rising costs were "unsustainable".
Absence
The final version of the report sets out plans for the future development of the Holyland.
The executive summary, which has been seen by the BBC, states that there is a "fundamental need to alter the dynamic of how the Holyland and wider university area currently functions".
It also highlights "that the absence of a coherent policy on the production and supply of student housing" has "resulted in an over-reliance on the private sector".
The report found that more purpose-built student accommodation, like halls of residence, was needed in Belfast.
There are about 42,000 students in Belfast, but the universities provide just over 2,600 bedspaces for those students - only one in 16 students in Northern Ireland lives in university halls.
In other cities of similar size, like Cardiff, Nottingham or Leeds, one in five students lives in university accommodation
The report recommends a number of actions on student housing.
These include the development of a city-wide strategy for student housing, and the identification of other appropriate locations for housing students in the city other than the Holyland.
It also calls for the development of an accreditation scheme for student housing.
This could lead to a requirement for first-year university students to reside only in university provided or approved accommodation. However, supporting documents prepared by the council admit that there may be legal implications in introducing such a move.
Traffic
The report also contains other recommendations for renewal of the Holyland area.
These include a "new homes from old places" initiative aimed at converting houses of multiple occupation or derelict houses back into single homes.
It also highlights the need for environmental improvements in the area.
Supporting documents show that these changes may include closing parts of the area to traffic, more enforcement on parking or installing alley gates.
Some residents in the area also told the report's authors that they wanted the two access roads to the Holyland from the Ormeau embankment closed, and some suggested that the bus-link to the University of Ulster from the area should be removed.
The final report is to be discussed by the council's health and environmental services committee on Monday and given to stakeholders on Tuesday.