High tide of rubbish on Northern Irish beaches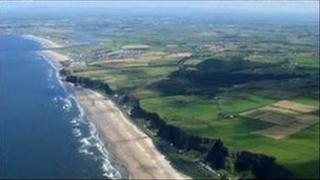 Northern Ireland's beaches are some of the untidiest in the UK, with litter levels per kilometre more than double that found on most other beaches.
The findings come from a survey carried out last September by theMarine Conservation Society.
They collected items lying on 23 NI beaches, filling 183 rubbish bags.
That amounted to almost 5000 pieces of litter per kilometre of shoreline cleaned around Northern Ireland's coast.
Across the UK the amount of litter collected from beaches had dropped. However in NI, results were inconclusive.
Previously only eight beaches had been surveyed so it was not possible to compare like-with-like.
However, it is still a very depressing total for the environment minister Alex Attwood.
After surveys of high litter levels and poor bathing water quality in the past, he set up special "beach summits" to try to tackle the problem.
Unfortunately for him, the survey was carried out before the summits could have any effect, so observers will have to wait until next year for meaningful results.
Mr Attwood will also be noting that there were no plastic bags listed in the top ten items found on Northern Ireland's beaches.
He is introducing a 5p plastic bag tax next year to try to tackle the scourge of plastic bags blowing around the countryside, yet this survey suggests plastic bags may not be the culprit some claim.
The top ten items found on UK beaches were:
1. Plastic pieces 21.8% of total litter
2. Plastic caps/lids 6.2%
3. Polystyrene pieces 6.0%
4. Crisp/sweet/lolly wrappers 5.8%
5. String and cord (under 1 cm) 4.6%
6. Plastic drinks bottles 4.5%
7. Glass pieces 4.4%
8. Cotton bud sticks 3.3%
9. Fishing nets and pieces 3.0%
10 Plastic cutlery/tray/straws/cups 2.4%
The MCS said they were increasingly concerned by a rise in the number of balloons found on UK beaches. Their numbers have increased by 8% over the past year.
Lauren David, MCS's Beachwatch Officer said: "With 2012 set to be a year of celebrations from the Queen's Diamond Jubilee to the London Olympics, we really need people to understand why letting go is a bad idea."
"There is clear evidence that balloons harm wildlife in the marine environment and we don't want to see 2012 leaving a legacy of littering."