Down's Syndrome girl wins right to school review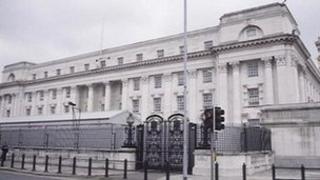 A girl with Down's Syndrome has won the right to challenge the denial of a place at the high school of her family's choice.
The 13-year-old from north Down was granted leave to seek a judicial review of the decision reached by a special educational needs' tribunal.
Efforts will now be made to have the case heard in full before the new school year starts in September.
The girl, who cannot be identified, has not been in class for six months.
High Court proceedings were brought after the tribunal upheld a decision that she should attend St Columbanus' College in Bangor.
The girl's mother wanted her, instead, to be given a place at St Joseph's College in Belfast.
Her legal team argued that she was being excluded from full mainstream education.
It was claimed that the decision breached her human rights and special educational needs' legislation.
Counsel for the girl contended that the case was all about inclusion. He argued that the girl would be more integrated in the school of her choice, rather than subjected to streaming.
But a barrister for the tribunal claimed St Joseph's lacked experience in dealing with Down's Syndrome pupils.
St Columbanus, on the other hand, could provide the girl with at least a basic minimum education, the court heard. It was also pointed out that it has had Down's Syndrome children since 2005.
After considering submissions, Mr Justice Treacy granted leave to apply for a judicial review on the basis that an arguable case has been established.
He indicated that it was unlikely that the full hearing would take place before September.
However, Ronan Lavery QC, for the girl, said such a scenario would mean the case continuing into the new school year.
Mr Justice Treacy responded by listing it for a further mention next month in a bid to having it heard before the summer recess.
The girl's mother has explained her reasons for going to court in a bid to obtain a fully integrated education.
She said: "It's about tolerance. Other children need to learn that they won't be as fast and as quick, but they need to be respected and appreciated as another human being without that dividing line."