50 software jobs announcement for Belfast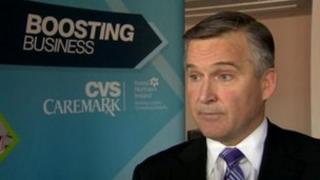 Fifty high quality jobs are to be created in Belfast by a leading US-owned firm.
CVS Caremark, a pharmacy healthcare provider, is a Fortune 50 company with about 200,000 employees.
The firm plans to set up an IT operations centre in Belfast for the development of software.
Invest NI has offered £300,000 in support whilst the Department of Employment and Learning has pledged £200,000.
Stephen Wrenn of CVS Caremark Corporation said the move was the company's first significant foray abroad.
"The combination of excellent IT talent on offer in Northern Ireland and the business-friendly environment including the support from Invest NI and DEL, have led to our decision to establish a presence in Northern Ireland and we look forward to getting the project underway."
The company plans to collaborate with the higher and further education sector in Northern Ireland to design and deliver training programmes.
'Strong role'
The announcement was made on Thursday by enterprise minister Arlene Foster and employment and learning minister Stephen Farry.
Ms Foster said: "CVS Caremark considered several locations across the globe for its investment but was particularly attracted here by the availability of highly skilled IT professionals, our reliable, high speed and cost-effective telecoms infrastructure, and the very competitive operating cost environment.
"When fully in place these jobs will generate £1.5m a year in salaries that will feed into the local economy."
Dr Farry said: "Under the Assured Skills Programme we are able to put together a custom built training package which assures newcomers to Northern Ireland - as well as growing indigenous businesses -that the skills they need to make their investment a success can be found here.
"This relatively new programme is already playing a strong role in growing our economy and providing employment opportunities for our workers."
The jobs announcement comes just days after another major firm, Axiom, revealed plans to create 100 high-end jobs in the legal services industry.