Online Omagh bomb files hacked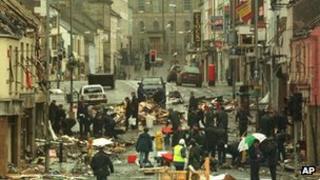 An information breach at an English law firm has led to the publication of confidential documents about victims of the Omagh bombing.
H2O Law has been representing some of the victims of the 1998 atrocity.
The firm said the material was hacked into and they have reported the matter to the police.
Some of the files included lengthy medical and psychological reports, and information from Garda witnesses.
The files were taken down after the law firm was contacted by the Irish Times last Thursday.
The paper agreed not to publish details until the documents, and "cached" copies, were removed from the internet.
H2O Law issued a statement about the breach on Wednesday.
It said: "We are aware of a recent press report concerning computer hacking of data relating to Omagh client documentation held at the offices of Twenty Twenty Law. We became aware of the intrusion on the afternoon of Thursday 15 March 2012.
"The police have been informed and are investigating the matter. Our best information at the moment is that the IT system was not targeted specifically but was the subject of a random attack."
Worrying
Michael Gallagher, from the Omagh Families Support Group, told BBC Radio Ulster that it was "very, very worrying".
"At the moment we don't know the quantity or the extent of the information," he said.
"I am quite happy and confident that the police have taken control of this investigation and we just hope that they will be in the position to tell us the amount of material that has been on the net and who did access it when it was there.
"It is a small comfort that not everybody is going to go in every day and have a look at this sort of material but I think the fact that somebody, either unintentionally or deliberately, attacked their computer system is worrying."
On Friday, a Belfast judge confirmed the civil retrial of two men being sued over the 1998 Omagh bombing.
Mr Justice Gillen said he was setting aside up to six weeks in October to hear the case against Colm Murphy and Seamus Daly.
Twenty-nine people, including a woman pregnant with twins, were killed when a Real IRA bomb exploded in the County Tyrone town on 15 August 1998.
Correction: This story has been amended to make clear that TwentyTwenty was the victim of computer hackers and that neither H2o or TwentyTwenty were responsible for any breach of confidentiality. We apologise for this error.