Is incapacity assessment working?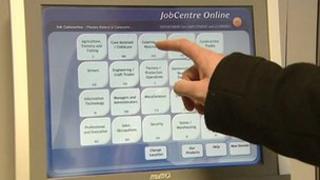 A lone parent of one child who suffers from a learning disability spent four months trying to prove she was entitled to a new benefit.
The woman, who did not want to be named or interviewed, is one of tens of thousands of people who are being assessed, as part of the government's Social Welfare Reform programme.
Details of her case were passed to the BBC by Les Allamby of the Law Centre Northern Ireland.
He has concerns about the new welfare policy and the assessment process in moving people from Incapacity Benefit to the new Employment Support Allowance.
Incapacity benefit, paid to those deemed too ill to work, is being phased out, a process that began four years ago under Labour.
To keep her benefits the woman needed need to earn 15 points.
Her assessment was carried out by a medical professional, not necessarily a doctor.
She failed to get a single point. She appealed and obtained 36 points.
The whole process took four months and in the meantime she was on a basic benefit of around £67 a week.
"It's clear the decision-making process is not all it should be," said Mr Allamby.
"The medical assessment is going radically wrong in some cases."
He estimated that 30% of those seeking to move from Incapacity Benefit to Employment Support Allowance would be rejected.
Official figures are not yet available. The assessments began in February 2011.
Although there are problems with the new system, Bill Manwaring, a Conservative politician who works with the jobless on the Shankill Road in Belfast, said reform is necessary.
He said people have been "parked" for too long on benefits when they actually want the chance to work and contribute to society.
"This isn't about saying: 'You're all fakers'.
"This is about saying there are people who are genuinely sick and genuinely unwell who need support.
"And there are those who want to get back to work but can't because they are tied up in the system"
Not everyone being assessed on Incapacity Benefit will have a face-to-face meeting with a healthcare professional.
The most severe cases, say those with terminal cancer, will be automatically given the new benefit of about £99 a week.
The others will be assessed face-to-face.
A report will then go to the Social Security Agency for a decision.
Some will get a work support programme of about £94 a week in benefits, others will be rejected for the new benefit.
Some of those will have to go on Jobseekers allowance. If they qualify.
Critics are worried people with no chance of employment will be left with little support.
Mr Allambly said some people could work 24 hours a day and still not find a job.
Recession
The Conservative Work and Pensions Secretary Ian Duncan-Smith is spearheading the welfare reform and insists the system is broken, and has polling to show that a majority of the public agree.
Mr Manwaring said breaking down the system step by step would pay dividends, but it required the executive to match the change with a work programme.
Agnes Fraser, a welfare rights advisor in north Belfast, is not convinced by the changes.
She said there is a reason that Northern Ireland has the highest number in the UK on Incapacity Benefit. She said this is in part due to the legacy of the Troubles which left many traumatised.
She wondered how long-term unemployed people with an illness are supposed to find jobs in the current recession.
"If you have got someone who has been on long-term incapacity benefit, through no fault of their own, and you have got a string of graduates coming in, who are you going to employ?"
Ian Parsley, a former Conservative politician, who researched welfare reform, said the UK can no longer afford the welfare system in its current form.
"I take the view that with our economy in such dire straights we simply cannot afford to allow so many of our people essentially to be signed off into different areas," he said.
Mr Parsley said people aspire to more than a workless life.
It is not clear how many people have been helped off Incapacity Benefit and into work.
The Department for Employment and Learning does not keep those figures but said about 1,500 people have claimed a return-to-work credit in the past year.
Mr Allamby said this is a tiny fraction of the tens of thousands affected.
The assessment process will run until March 2014.