Current A&E system 'intolerable'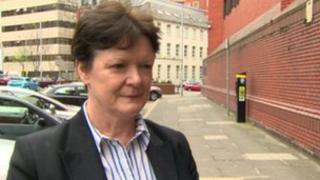 The person leading an action group looking at reducing waiting times at emergency departments across Northern Ireland has said the current system is "intolerable".
Mary Hinds, director of nursing at the Public Health Agency, spent six weeks observing how the A&E service is run at the Antrim Area Hospital.
Patients, staff and management were interviewed.
Ms Hinds will submit her report to the health minister shortly.
Speaking to the BBC, she said there needed to be a better management of patients.
When asked if some patients are being managed in an environment which is not safe, she said: "There should be the appropriate number of nurses to look after the patients.
"When admitted to hospital and you are delayed in the system, someone should be appointed to care for you.
"There should be someone responsible for you, for monitoring you, and caring for you."
Ms Hinds refused to comment on the care of the elderly man who died on a hospital trolley at the Royal Victoria Hospital after waiting almost 24 hours for a bed.
It was revealed last week that the man had died unnoticed in the accident and emergency department on Tuesday 6 March.
However, Ms Hinds clearly laid out what should be in place when a person is admitted to an emergency department.
"It is our responsibility to try and fix it," she said.
"Even today I have challenged nurses to try and speak with courage to help fix their services every single day they go into work.
"For the very first time we've now got a commitment from the department to support normal ranges of staffing levels for nursing and that is a first.
"That will ensure safe staffing levels across our trusts in Northern Ireland.
Speaking after a speech from Health Minister Edwin Poots to over a hundred nurses, where he outlined his plans to address the A&E crisis, Ms Hinds said he had shown "great courage".
"The Minister is showing real leadership," she said.
"He is showing that he's making it a priority, he is showing that patients being delayed in A&E is unacceptable.
"I think there is a bringing together of energy and I hope this new action group which has been formed will make the difference. "
After their time spent at the Royal Victoria Hospital's A&E department, it is expected that the team will observe the Ulster Hospital's emergency area in the South Eastern Health Trust.