MLAs criticise Stranmillis merger plans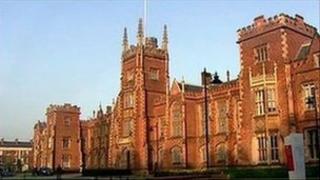 Representatives of Stranmillis University College have been advised to find an alternative to a merger with Queen's University "rather than flog a dead horse".
Deputy chairperson of the employment and learning committee, the DUP's Tom Buchanan, said the board of the teacher training college should come up with a "Plan B".
College principal Dr Anne Heaslett and board member Doreen Bell appeared before the committee to explain the case for the proposed merger.
Ms Bell explained that the reasons for the merger were primarily economic. These included falling student numbers and problems with buildings, including the discovery of asbestos.
The cost of asbestos removal had been estimated at £3.2m, she said, and this was additional to £3.6m required for general refurbishment.
Student numbers had dropped from 770 in 2006, to 552 in 2011. Ms Bell said each student was worth £10,000 to the college in funding.
The TUV's Jim Allister said there seemed to have been a great fear of discussing the proposal with staff.
Pat Ramsey of the SDLP quoted from a letter he had received that spoke of "misguided attempts to bully staff into a merger".
Mr Ramsey said the committee did not believe that an appropriate consultation with staff was made.
The DUP's Sammy Douglas referred to a comment made by the chairman of the board of governors, Stephen Costello, that the college was "in a dire situation, on a life support machine".
Ms Bell said she thought Mr Costello was referring to the long-term future of the college.
"It's not on life support," she added.
Mr Douglas echoed other members' comments that there was much anger about the proposed merger.
He said that a debate in the assembly had demonstrated that "the merger is dead".
"I don't accept that the merger is dead," Ms Bell replied.
"There is no political appetite for it. It's not going to happen," Pat Ramsey commented.