Are fuel prices in Northern Ireland likely to keep on rising?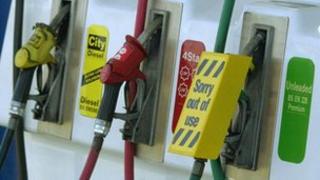 "It's awful - I used to fill up for £40 a week. Now a fill-up is £75. People can't hold out to it any longer. There has to be something done about it. There's no such thing as a drive on a Sunday afternoon now."
The words of one Belfast motorist who was paying about £1.41 a litre when I met him on a Belfast forecourt.
Northern Ireland now has the most expensive petrol and diesel prices in the whole of the UK and the European Union.
Last year, drivers were paying about £1.25 and in 2010 about £1.16.
So where is it all going to end?
We know tensions in the Middle East cause prices to wobble, but the main reason we pay so much is down to tax.
Last year, the chancellor left fuel tax alone in the budget. We will know what he plans to do this year on Wednesday.
There is also a wide variation in what you pay for your petrol and diesel across Northern Ireland.
The Consumer Council has an online map which shows a difference of as much as 9p a litre for petrol and nearly 6p a litre for diesel.
"What we have asked for is clarification on the fuel duty stabiliser as it's been referred to in the media," said Scott Kennerly from the Consumer Council.
"What we've discovered is that it's actually about what they call a 'fair fuel stabiliser'.
Spain
"It will basically limit the amount that fuel duty will increase, but won't actually do anything to reduce the cost of petrol and diesel so we're going to carry on seeing these high prices at the petrol pumps unless the government steps in and does something."
Nipping across the border to fill up is not a solution. Their last budget saw prices increase to an average of £1.37 a litre for petrol and £1.33 for diesel.
Maybe we should take a leaf out of Spain's book.
They have reduced the speed limit by 10 kilometres an hour to save fuel. Or you could always declutter the car to reduce wind drag.
Honestly - it has been suggested.
One thing's for sure - people like a taxi driver I spoke to on the forecourt do not think prices are likely to come down much any time soon.
"There's nothing more that they can tax us on because we're just taxed on top of tax," he said.
"I think personally someone sits in an office everyday, all day and thinks of something else that they can put taxes on."