Critics say cuts in housing benefits will hit most vulnerable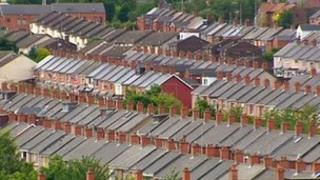 Stephen is a 28-year-old unemployed single man who is about to be hit by the so-called "bedroom tax".
That's the new welfare reform policy that the government says protects the tax-payer from having to pay for a two or three bedroom house for a single person.
That extra bedroom is a luxury, according to the government.
But critics say it ignores the circumstances of divorced or single parents with part-time access to their children.
Stephen, for example, currently receives housing benefit of around £93 a week. This does not quite cover his rent which is £103 a week.
The north Belfast man uses some of his £55 a week Jobseeker's allowance to make up the difference.
But in June, his housing benefit will be cut by £10 to around £83 as part of reforms aimed at encouraging him to share accommodation like they do on the continent - or to seek a single-bedroom unit.
He is no longer eligible for the higher payment because he is single. But he has a six-year-old daughter who stays three to four nights a week.
He does not think it is practical for him to share and if he can't find a job, how can his daughter keep visiting?
Shortage
Critics say Stephen is not an isolated case. They also point out that former prisoners - or people with mental health issues - cannot so easily share.
Des McGranaghan, an estate agent in west Belfast, says there is a shortage of single-bedroom units, and that landlords are reluctant to have multiple tenants.
He says rents in Northern Ireland would not be driven down by the reforms either.
He points out that in west Belfast there is a shortage of rental properties, but plenty of demand and enough people able to pay the going rate.
There is also a shortage of social housing with thousands on waiting lists and that means some people on benefits have turned to private landlords.
But with some single people under 35 facing cuts of £44 a week in their benefit, they have been priced out of the market.
"We are seeing customers in our office now who can't afford accommodation," says Mr McGranaghan.
"I don't know what the Housing Executive is thinking...If someone on housing benefit can't afford the rent the landlord is going to take the one who can. And the problem will come back to the Housing Executive."
He says people he sees are very stressed as it is by the housing shortage.
"We would have people in the office, in some situations, single mothers in tears. They have to go to hostels because there is no housing."
The Housing Executive has set-up a working group to consider and examine the implications of the government's welfare reform.
Sharing
Ian Parsley is a former Conservative politician who along with the current work and pensions secretary helped research the reforms a few years ago.
Mr Parsley acknowledges some of the housing reform is more applicable to the London model, but insists sharing is an option across the UK.
He points out that it is commonplace for people in other European countries to share houses.
"I just have to question some of the expectations of people who somehow expect the state to pay for a three-bedroom house for a single (person)," he says.
"Is that really reasonable?"
Cameron Watt, of the Northern Ireland Federation of Housing Associations, says household cuts will be introduced next year which will bring hardship for working families.
"There are tens of thousands of working age households on benefits at the moment in Northern Ireland who are just about making ends meet," he says.
Concerns
"But by having cuts to their benefits of perhaps £15 or £25 a week as a result of making these changes, they'll be pushed into hardship."
There are other concerns about the new social welfare bill passed this month at Westminster, as it changes the way benefits are paid.
Instead of housing benefit going directly to the landlords, as it does in most cases here, it would be paid to the person of working age making the claim.
The aim is to encourage more social responsibility, but critics say it will lead to arrears and homelessness for people with addictions or debt problems.
The Social Housing Minister Nelson McCausland is thought to be sympathetic to keeping the current system of direct payments to landlords.
He was not available for interview, but Stormont will be introducing its own Social Welfare Bill and it is thought he is negotiating with the work and pensions department to ensure there is no change on direct payments.
Extra funding has already been set aside for those in housing distress due to the reforms.
Critics say this will soon run out and Mr Watt has urged the executive to increase funding and to ensure that a single person who has part-time access to their children does not lose out.
The problem is that if the executive strays too far from the Westminster model in terms of costs it risks losing funding.