Smithwick Tribunal adjourned over 'vital intelligence'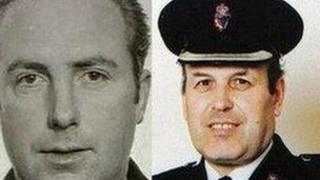 A Dublin tribunal investigating allegations of Irish police collusion in the murders of two senior RUC men has been adjourned.
A judge suspended the Smithwick tribunal pending the receipt of important intelligence information.
Two weeks ago, Judge Peter Smithwick referred to intelligence so far withheld by the British authorities.
In his interim report, he said this was "highly relevant and potentially significant".
On Tuesday, he said he was "totally dependent" on certain information.
If and when that information is received will determine when the tribunal resumes its public sittings.
Senior RUC officers, Chief Superintendent Harry Breen and Superintendent Bob Buchanan died in an IRA ambush in south Armagh as they returned from a meeting in Dundalk Garda station on 20 March 1989.
The tribunal is investigating allegations that a garda mole passed information to the Provisional IRA leading to their deaths 23 years ago.
Speaking on the anniversary of the murders, Judge Smithwick said his thoughts and prayers were with their families.
A solicitor for Chief Superintendent Breen family said a much fuller picture of what "was known and seemingly ignored or withheld with regard to this tragedy" was now emerging.
At times, the detail was "almost incomprehensible to comprehend", he said.
Major's evidence
On Tuesday, a retired British Army Major, Witness 79, gave evidence from behind a screen.
He said he believed the IRA was forewarned about the movements of the RUC officers before the ambush.
When two scenarios were put to him - one being that the IRA had spotted the RUC officers in Dundalk and "got lucky" in setting up an ambush on the Edenappa Road; the other, that information was leaked to them allowing them to plan the ambush.
Witness 79 said the latter scenario was more likely.
He based his opinion on the number of army patrols in the area, the fact that the IRA in south Armagh were "risk averse" and the public perception that the Jonesborough watchtower could see everything, as reasons for this.
Referring to earlier evidence given by a British Army Brigadier, which stated that up to 70 IRA personnel may have been involved in the attack, he said he was surprised at the high number but could not disagree with that analysis.