Strain on Royal A&E unit 'preventing proper patient care'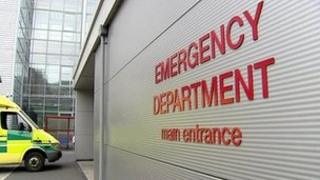 The strain on the A&E Department at the Royal Victoria Hospital is preventing staff from delivering proper care, according to the director of the Royal College of Nursing.
Janice Smyth said nurses were under intense pressure and struggling to perform.
Belfast City Hospital's A&E unit closed last November.
Sinn Fein MLA Sue Ramsey said there was a perception that the move had put additional pressures on the Royal.
According to management at the time, the move was temporary and unavoidable due to the shortage of senior medical staff.
But it meant the Royal Victoria Hospital's A&E department has become the main hub of emergency care in Belfast.
Ms Smyth said nurses were "absolutely unable to give patients the care that they know that they need".
She added: "We are talking about human beings, we are not talking about factory production lines, we are not talking about retail trades.
"It is the Royal College of Nursing's view that whatever we do with services they must be focussed and structured on the patient."
However, the chair of the health committee, Ms Ramsey, said she had been told by the Belfast trust that the closure of the City's casualty unit had not put additional pressures on the Royal.
Ms Ramsey said the Belfast trust told her there had been "unprecedented" visits to the Royal's casualty department.
But she said the trust insisted this "wasn't due to the impact" of the City's unit closing.
Speaking to BBC Radio Ulster's Good Morning Ulster programme on Tuesday, Ms Ramsey said there was a public perception that the closure of the City's A&E was impacting on the Royal.
"If it isn't having an impact, senior figures in the trust and the department need to convince the public that this isn't the case," she said.
She said the trust raised a "multiple of issues" saying a patient arrived at the Royal's A&E every two minutes.
Ms Ramsey urged the Health Minister, Edwin Poots, to implement a "fundamental review" of how other parts of the Royal Victoria Hospital worked to support the casualty unit.
Last October, a trade union representative from Belfast City Hospital told the BBC that closing the south Belfast department could have disastrous consequences.
The RVH had anticipated that it would have to deal with an extra 30,000 patients a year.