Royal Ulster Agricultural Society set to sign for Maze site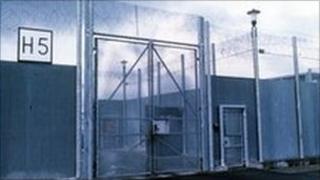 The Royal Ulster Agricultural Society (RUAS) says agreement has finally been given to purchase a 65 acre site at the former Maze Prison near Lisburn.
The society said it means the largest agricultural show in Northern Ireland, the Balmoral Show, will be relocated from the King's Hall, where it has been held since 1895.
RUAS accounts show that £4m has been earmarked for the project.
An agricultural centre of excellence will also be built on the site.
Most of the RUAS's showground at Balmoral will be sold off for housing to help fund the move to the Maze.
Colin McDonald, chief executive of RUAS, confirmed on BBC Radio Ulster that the deal would be formalised on Tuesday.
"We will be signing the heads of terms of this agreement and this will give us the option to purchase 55 acres now, with an option for a further 10," he said.
"It will give us the chance at last to go out to engage with our members to tell them what our vision for the future of the society might be."
Mr McDonald told Good Morning Ulster there was no government subsidy involved in the deal and that RUAS were paying the going rate for agricultural land in the deal.
He also said it could take "25 years to have this Maze complex the way we would want it to be".
"The Balmoral Show will only be one part of the actual society at the Maze," he said.
"The rest of it we see as being the seed, the hub, for a centre of excellence which will be like a science park but for agriculture, which will attract inward investment from countries that come to Northern Ireland."
Other agricultural organisations are expected to follow RUAS to the Maze.