Is a Stormont opposition on the way?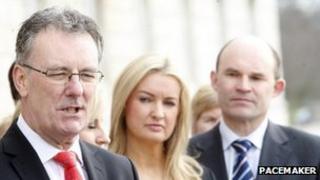 Mike Nesbitt's suggestion that there should be a referendum on the creation of a Stormont opposition made for a good headline on this week's BBC Sunday Politics programme. But how practical is it?
It's true that nearly 14 years have passed since the Good Friday Agreement, and the subsequent changes made at St Andrews were never endorsed by a referendum.
But as this blog reported just last month, First Minister Peter Robinson argues that the voters got their chance to cast their verdict on those changes via successive elections.
The reason Mr Nesbitt's rival for the Ulster Unionist leadership, John McCallister, has argued for a unilateral move into opposition is the reluctance of the UK government to legislate for an official opposition.
The secretary of state has indicated his support in principle for a change to the Stormont system but won't pass a new law without a consensus on the need for reform at Stormont.
Does that cross-community consensus exist? No.
So would the secretary of state adopt a much lower threshold for calling a referendum on changing the system at Stormont to the one he has already enforced for new legislation? It's hard to imagine it.
'Mandatory coalition'
Given that Gerry Adams has recently accused Owen Paterson of "arrogance" for not arranging a border poll, is the secretary of state likely any time soon to inform Sinn Fein that he has decided to push through a Stormont opposition referendum instead?
On Sunday's Inside Politics, the former Sinn Fein minister Conor Murphy said that if the Ulster Unionists wanted to decline to take a ministry that was a matter for them. But the fundamental entitlement to be in government contained in Stormont's "mandatory coalition", he added, was an important part of the Good Friday Agreement to which republicans will strongly adhere.
If Owen Paterson did press ahead against this backdrop, nationalists might further argue that the current Stormont system was created with the endorsement of joint referenda north and south of the border, so any fundamental change should be put to a similar exercise. That would involve getting the Irish government on side, something else which raises the bar on the likelihood of a such a referendum.
So the new Stormont referendum looks more like a distraction than a real game-changer. None of this alters the fundamental argument about whether the Ulster Unionists should choose opposition or stay in government. Both options can sensibly be argued for and against by party activists, weighing up the potential risks and rewards.
Mike Nesbitt himself says he doesn't want the leadership contest to "narrow itself into a single issue debate". His well-documented communication skills and widespread public recognition remain his strong suit, not policies like the proposed referendum.