Is Michael Collins Britain's greatest foe?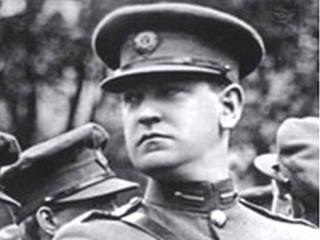 Is Irish revolutionary leader Michael Collins Britain's greatest foe?
In a poll launched by theNational Army Museumin London, the votes rose steadily and on Friday, ahead of St Patrick's Day, Collins topped the poll.
He took the lead ahead of firm favourite Napoleon and left other front runners, like Erwin Rommel and George Washington, in his wake.
But at the weekend, Ataturk took the lead at such an unbelievable pace that the museum's web team is investigating.
His fans mounted a suprise attack and he came from nowhere to suddenly gain 7,887 votes.
Voting has been suspended for a short while.
Thepollhas been running since 13 February.
On Saturday 14 April, the five top military leaders as decided by voters will be represented at an all-day event by five leading historians.
"They'll explain why they were so great, how the British Army was outmanoeuvred by them and what we learned from them," said a press officer for the museum.
Following the weekend problems when thousands of votes were cast for Mustafa Kemal Ataturk, Collins now stands at second in the leader board.
He is followed by Rommel at third and Napoleon Bonaparte in fourth position.
The shortlist of 20 enemy commanders are those, who, the museum says, "dealt the British Army the biggest blow".
According to the museum website: "Collins's place in the National Army Museum's top 20 list of formidable foes is clear.
"An outstanding leader during the Irish War of Independence, he fought the British to a standstill with an army that never exceeded more than 3,000 active volunteers at any given time.
"He also had an instinctive understanding of the strengths and limitations of guerrilla warfare."
The online voting runs until Friday 30 March 2012. Shortly after that, the names of the five historians who will represented the five "enemy commanders" will be announced.