Leaders head for USA and Canada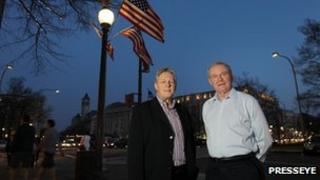 The first and deputy first ministers are travelling to the United States and Canada for a series of meetings during St Patrick's week.
They will meet with both administrations and engage with business leaders.
On Tuesday, Peter Robinson and Martin McGuinness will meet President Obama at the White House and have talks with US Secretary of State Hillary Clinton.
They will then travel to Montreal for a visit to the Bombardier factory.
The trip will finish in Toronto.
In both Washington DC and Toronto, Mr Robinson and Mr McGuinness will publicly launch the ni2012 programme of events which include the opening of Titanic Belfast and the hosting of the Irish Open Golf Championship at Royal Portrush.
"With so many important fixtures on the calendar during 2012 we are keen to promote the Province far and wide," said Mr Robinson.
"Our message is one of confidence, optimism, economic regeneration and the readiness of Northern Ireland to compete internationally as a first rate location for investment and jobs."
Mr McGuinness welcomed the opportunity to pitch for investment and tourism from North America.
He said: "Tourism is a central plank in our economic recovery and allied to the many exciting initiatives taking place this year and next, we hope to increase visitor numbers to 4.2m and tourist revenue to £676m by December 2014.
"Our confidence has never been higher because there really never has been a better time to see the north. We can guarantee visitors a time to treasure."