Ulster Hall celebrates 150 years with Great Northern Songbook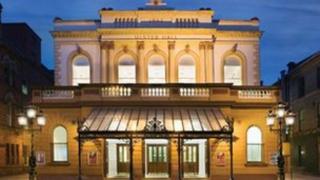 It is an iconic music venue in Belfast which recently has held everything from retro tea dances to the Red Hot Chilli Peppers performing for the MTV awards.
This year the Ulster Hall in Belfast is 150 years old and its anniversary is being marked by BBC Radio Ulster.
A one-off special concert, The Great Northern Songbook - 150 Years Of The Ulster Hall, is due to take place inside the Ulster Hall on 22 May.
Some of Northern Ireland's most popular music talent will perform the nation's 10 favourite songs composed by local songwriters, along with the Ulster Orchestra.
These tunes will be voted for by the public and BBC Radio Ulster and BBC Radio Foyle specialist music presenters.
From midday on Friday, music fans can log on toRadio Ulsterto vote for their favourite locally-composed song from a shortlist compiled by presenters.
A total of 32 songs have been shortlisted by BBC Radio Ulster's specialist music presenters
This public vote will run for two weeks until 30 March.
Complimentary tickets will also be made available from this date.
Among the top Northern Ireland acts already lined-up to perform at the concert are Cara Dillon, Brian Kennedy, rock band The Answer, General Fiasco and Katharine Philippa.
The concert will be hosted by BBC Radio Ulster presenters Ralph McLean and Lynette Fay.
"We've always made great music here in Northern Ireland and some of the very greatest songs ever have been written by artists from up here, " Ralph McLean said.
"From Van Morrison to Jimmy Kennedy, we've produced songwriters of the very highest quality, people who've written tunes that have made people happy whatever their musical taste.
"The fact that it's in the Ulster Hall also means a lot to me. I couldn't tell you how many great nights of music I've enjoyed in that historic venue down the years."
Fergus Keeling, BBC Northern Ireland's head of radio, said local music was a vital part of its schedule.
"Staging this unique event to mark the anniversary of this renowned music venue is our way of thanking our listeners for making us their home for specialist music and giving them their say on something we know they are extremely passionate about," he said.
The Great Northern Songbook - 150 Years Of The Ulster Hall will be broadcast live on Radio Ulster at 20:00 GMT on 22 May.