Prince Philip visits Hillsborough Castle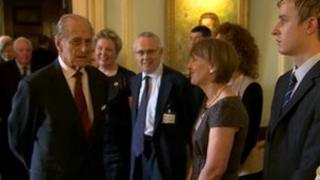 The Duke of Edinburgh has arrived at Hillsborough castle for a one day visit.
Prince Philip was meeting 100 young people from across Northern Ireland who have achieved their Duke of Edinburgh gold award.
He was greeted by the Vice-lieutenant of County Down, Fionnuala Cook OBE, and Ann Mackie, Sheriff for County Down.
The Duke was in high spirits and chatted and laughed with the award winners and their families.
At Christmas the 90-year-old Duke had a coronary stent fitted after suffering chest pains.
Prince Philip is having lunch at the castle, before leaving in the afternoon.