Mother's pain at son's payday loan nightmare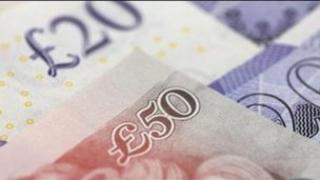 A mother has spoken of her son's "harrowing and desperate" experience with money lenders.
The woman, who did not want to be identified, said her son, in his 20s, from Tyrone, had a job but had difficulty managing money.
He turned to payday loans after getting into financial difficulty over a bank overdraft.
Her son got into debt of more than £5,000 and ended up borrowing from five different money lenders.
He became very disturbed and could not see a way out as the debt mushroomed, she said.
"He applied for several payday loans, in fact, he approached five lenders and they all lent to him," she said.
"I was quite alarmed because, had they done a credit check history on him, they would have seen he had no means to repay that. The minute his salary would have gone into the bank, the bank obviously took the overdraft out of it."
She was unaware of the situation until her son visited her.
"I thought he looked very disturbed. I was really concerned for his mental wellbeing. I asked him a couple of times what was wrong, but he denied it. He sent me a text message from another room in the house to say he had written me a letter.
"That letter was very disturbing to me. I would go so far as to say that it was possibly a suicide note. He definitely was in the depth of despair. It was a harrowing letter to read and it was all purely around these money lenders.
"There were due dates and he knew he had to meet those and he knew he had no way of meeting them. The debts were building up. He had five different people that he knew he had to stretch to. He was never getting his hands on his wages. He was overdrawn in the bank as well."
She helped him find a way out by researching money lenders and securing a proper loan at a proper rate.
"We wrote letters stating that he should never be lent money again which was the advice of one of the money lenders," she said.
But that was not the end.
"Sadly one of the money lenders is still texting him offering more money. The text said that if he could push the button and send back the text message, the money would be in the bank within the hour. I was appalled."
The mother said anyone who can manage their money would not become involved with money lenders.
She said vulnerable people were being targeted and left in desperation.